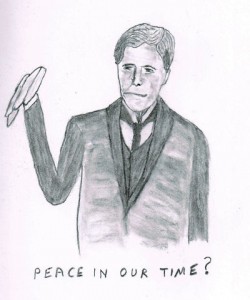 Peace in our time? Again? Is this what Kerry is trying to accomplish in the middle east? An Interim deal? A toothless wonder? I remember seeing the clip of Chamberlain arriving back in London just before the second world war broke out. Then too a peace agreement was signed. We know that Hitler had no intention of living up to the agreement not to seek war.
Does Rouhani really want peace? Absolutely not! He wants the sanctions lifted so that they can trade with the world and get the goods his people need. An infusion of cash would do nicely. It has taken years for the UN to get enough sanctions on Iran to finally make the leadership uncomfortable. Why the sanctions? The Iranians are trying to build a nuclear weapon. They want to use it against Israel… the West… the Sunni…
Do we let up on the sanctions for an empty promise on a piece of paper? Unless there are boots on the ground and they have the teeth to start dismantling the Iranians centrifuges no peace will be had. They were led by a madman and now a smiling fox. Yet the spirit behind Hitler is alive and well and standing firmly at Rouhani's shoulder.
It is not enough to negotiate a deal. To obtain a promise. To hope. It is not enough to trust. As Reagan said, "Trust and Verify" the dismantling of their nuclear war program. Until then keep your powder dry and the sanctions in place.